CI_DB_mysqli_result Object ( [conn_id] => mysqli Object ( [affected_rows] => 1 [client_info] => mysqlnd 5.0.10 - 20111026 - $Id: c85105d7c6f7d70d609bb4c000257868a40840ab $ [client_version] => 50010 [connect_errno] => 0 [connect_error] => [errno] => 0 [error] => [error_list] => Array ( ) [field_count] => 4 [host_info] => Localhost via UNIX socket [info] => [insert_id] => 0 [server_info] => 8.0.22 [server_version] => 80022 [stat] => Uptime: 626335 Threads: 12 Questions: 503707897 Slow queries: 0 Opens: 20964081 Flush tables: 3 Open tables: 20000 Queries per second avg: 804.214 [sqlstate] => 00000 [protocol_version] => 10 [thread_id] => 1 [warning_count] => 0 ) [result_id] => mysqli_result Object ( [current_field] => 0 [field_count] => 4 [lengths] => [num_rows] => 1 [type] => 0 ) [result_array] => Array ( ) [result_object] => Array ( ) [custom_result_object] => Array ( ) [current_row] => 0 [num_rows] => [row_data] => )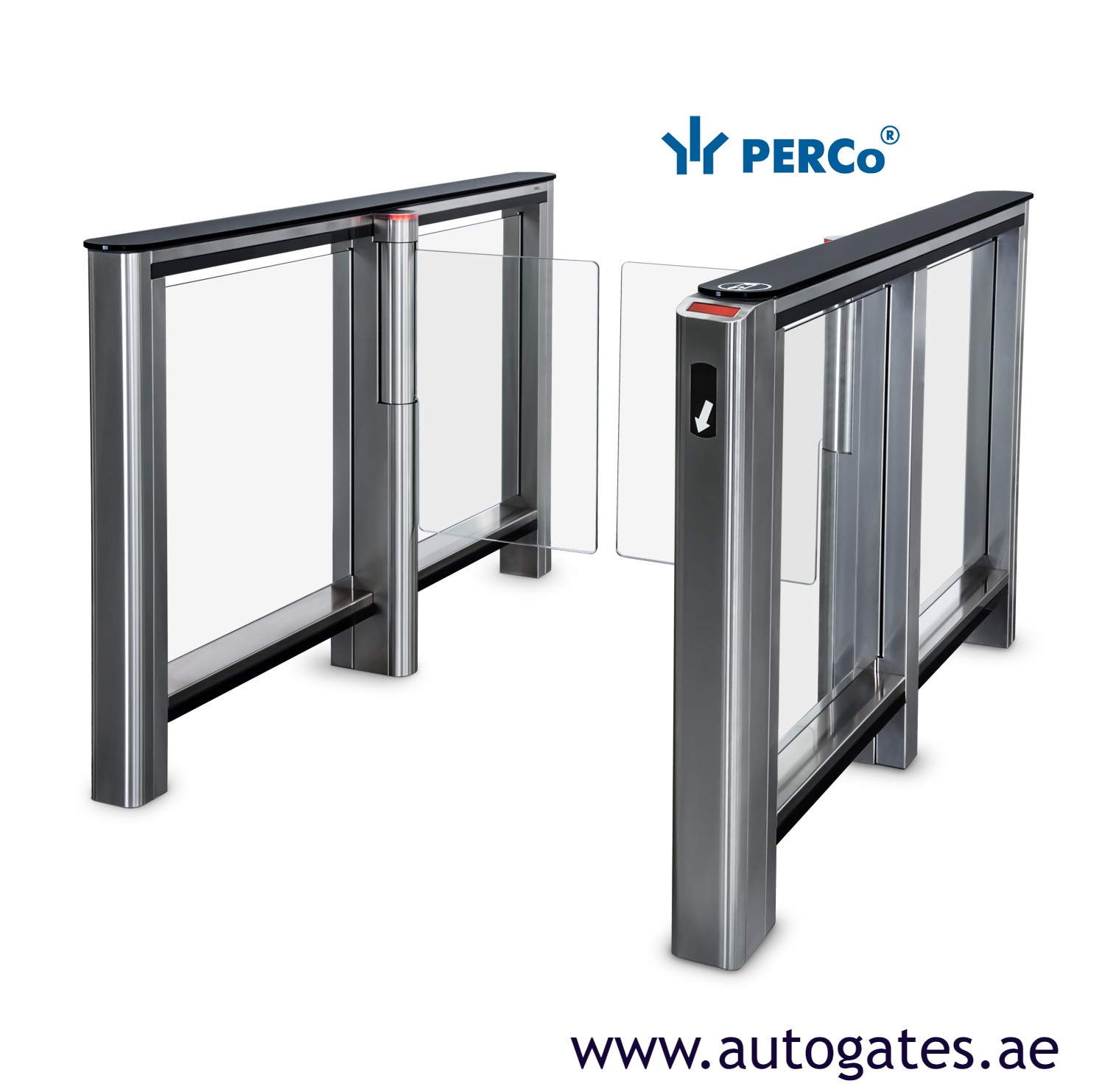 Perco-Speed gate with barcode reader suppliers in Dubai,UAE
ST-01 speed gate with front panel for barcode reader installation is designed in a modern for access control at sites with high aesthetic and comfort requirements.
Integration of a barcode reader allows using barcodes as temporary passes or tickets without changing the interior design of the entrance.
Delivery set:

two posts with built-in electronics
two swing panels made of tempered glass
FP-01Q front panel for barcode reader installation
central section with built-in electronics and two swing panels (optional)
remote control panel

It is possible to install the card reader under the posts covers and barcode reader under the FP-01Q front panel. Card readers and barcode readers are sold separately. The selection is based on the characteristics of the ACS controller.

ST-01 can have a standard width of 650 mm or an increased width of 900 mm. Increased width of the passage allows you to organize the passage for wheelchairs, as well as an additional exit in case of an emergency. Swing panels open during the passage.

Turnstile can be equipped with swing panels (1300mm) in order to enhance the security.

Number of passage zones can be increased with STD-01 double-sided section installation. Each double-sided section allows you to organize one additional passageway.

Tracking system is equipped with two levels of infrared sensors, 14 pairs are located at the top level and 28 at the bottom, which guarantees the safety of the passage at high throughput, as well as protection from the passage of two or more people at the same time.

Indication modules of the passageway direction are located on front ends of gate posts of the turnstile. (open/closed) is located on the covers of posts.

Swing panels open for free passage in both directions when the emergency signal is sent. In case of a power loss, the swing panels are unlocked.

It is recommended to use a special ST01_Children firmware for operation at children's institutions.